Boudoir Outfit Selection
When it comes time to make your boudoir outfit selection there are so many choices – from a dress to nothing at all. I like to start with an outfit that you love and feel really great about. Usually it's one of your more "clothed" options so you can relax a little more and gain confidence behind the camera. Below are some choices.
The most important thing is that you feel great in your outfits!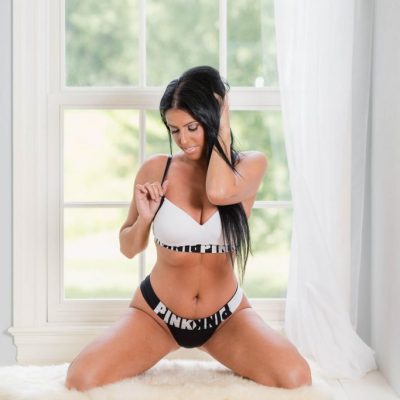 This is a classic choice and I'm sure you have several sets in your wardrobe already. You might want to splurge for something new or go with a favorite you already have.
Red, black, white (great for a bridal session), or patterned. You can also mix and match. Pair this with sexy shoes and maybe a necklace you love and voila, you have your first outfit.
If you don't have something, lots of my clients go to Victoria Secret for cute selections that don't break the bank.
THIGH HIGH STOCKINGS + CORSET
---
Fishnet stocking are very sexy and can be warn with a corset or suspenders and a camisole. Sexy shoes of course look great.
I think thigh high stockings elongate legs, but they definitely need to fit properly, so check them out before you commit to these as one of your outfit choices. For color, I like a classic black with black or red shoes. Yes, they can be a bit tricky to put on, but don't worry, I'll definitely help!
Corsets look great on a variety of body types, again just make sure it fits properly.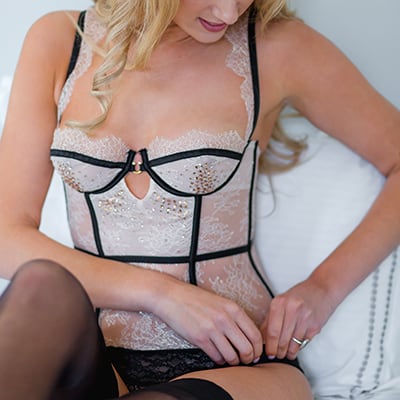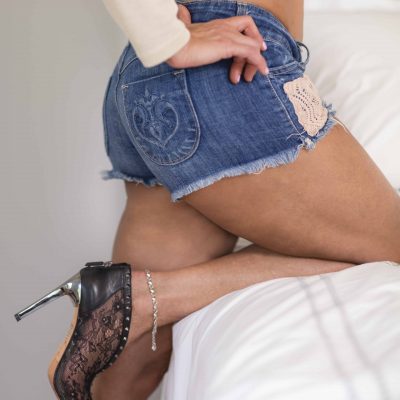 Cut off shorts or a skirt with either a bra or blouse makes a nice outfit.
If you are wearing shorts and it fits your personality, cowboy boots are fun and why not accessorize with a hat while you are at it. If that's not your style, then high heels, a camisole and a fun necklace works great.
Skirts with a v-neck sweater makes a nice more conservative outfit that can still be super sexy and make you feel great.
With boudoir outfit selection, variety is part of the fun!
ONE OF HIS SHIRTS OR JERSEYS
---
If you are giving a gift for to a male partner, by all means borrow one of his shirts or jerseys. It always delights guys to see their clothes on you, especially with nothing else under it. This makes for a great implied nude shot.
Guys never notice things missing for a while, so a team jersey is fun too. I even had one woman get a friend to borrow her husband's hard hat. He thought it just went missing. Then a couple days after the session, it just showed back up at work. He never knew until she showed him her album. That was fun!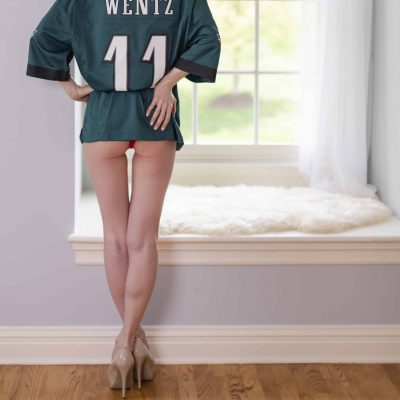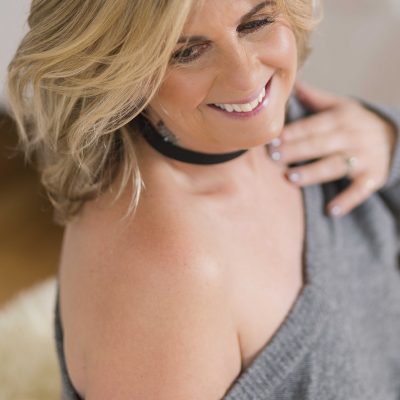 A chunky sweater just feels great and when it's all you are wearing (with some panties), it's super sexy. We can pull it over one shoulder, down in the middle, or just hug yourself in it. It's a fun choice.
I've often had women ask – is it ok if I bring a dress? Absolutely! Little black dresses can be as sexy as nothing at all. And no it doesn't have to be an LDB. Any dress that you like that makes you feel good will be perfect!
I saved this for last because it's not for everyone, but full, partial, or implied nudity can all be part of your session and it can be done very tastefully. A silhouette nude is sexy too. You get to show some things, but not everything. I think leaving some things to the imagination makes a great tease.
You can decide when your are towards the end of you session if this is something you would like to try. A sheet wrapped just so works well.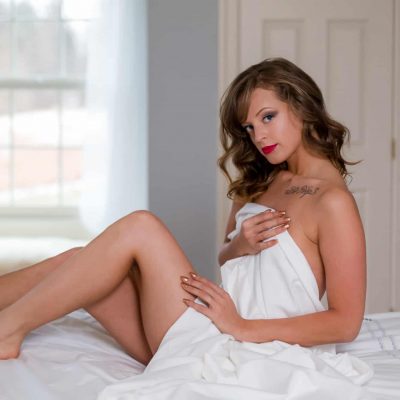 Don't forget, an outfit includes accessories. High heel shoes are a definite! If you don't have any, try borrowing a pair from a friend that wears the same size. Heels just make legs look sexier. And you will definitely be able to wear them again.
Other accessories include hats, earrings (I know you have those), rings, bracelets and necklaces. Bring a variety and we can mix and match.
If you are doing a bridal boudoir session, any bridal accessories are great. Do you have your veil? Bring it! Also your garter if you are using one.
Your boudoir outfit selection is going to be a blast, trust me. Bring lots of stuff if you want and I'll help you narrow it down. And feel free to ask me any questions you have!